Horn Area News/Events
Upcoming Events
Recent News
February 2019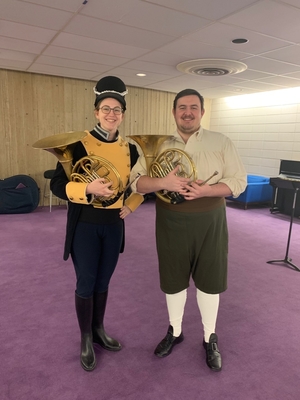 Horn students Mikayla McCommas and Daniel Dickey pose for a photo prior to their on stage performance in the IU production of Gaetano Donizetti's The Elixir of Love.
Thomas Jöstlein Masterclass - February 4
January 2019
IU students, Professor Dale Clevenger, and guest Nilo Caracristi pose for a picture following Mr. Caracristi's Masterclass - January 27!

Michael Mayhew, Associate Principial of the Cleveland Orchestra, gives a Masterclass to IU students as part of the Cleveland Orchestra's residence at Indiana University's Jacobs School of Music!
November 2018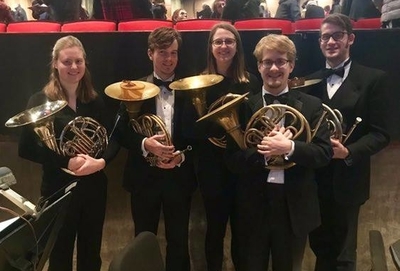 Members of the IU Concert Orchestra pose for a picture after their final performance of Engelbert Humperdinck's opera: Hansel and Gretel.  There were three performance at IU and two in Indianapolis.  From left to right: Rebecca Salo, Michael Stiles, Mikayla McCommas, Layne Anspach, and Elie Levine.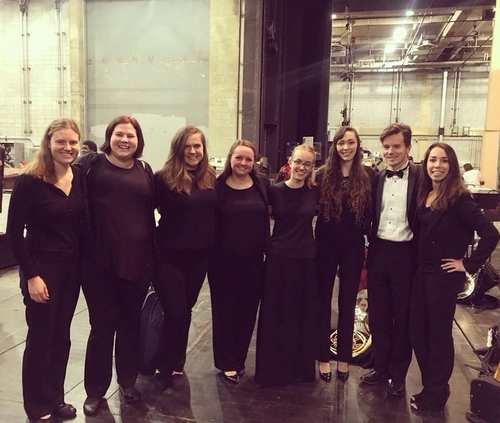 The IU Philharmonic Orchestra performed Benjamin Britten's War Reqiuem on the 100th Anniversary of Armistice Day! From left to right: Rebecca Salo, Sam Johnson, Sarah Krueger, Emma Lumsden, Dana Reckard, Brianna Volkmann, Michael Stiles, and Olivia Martinez  
October 2018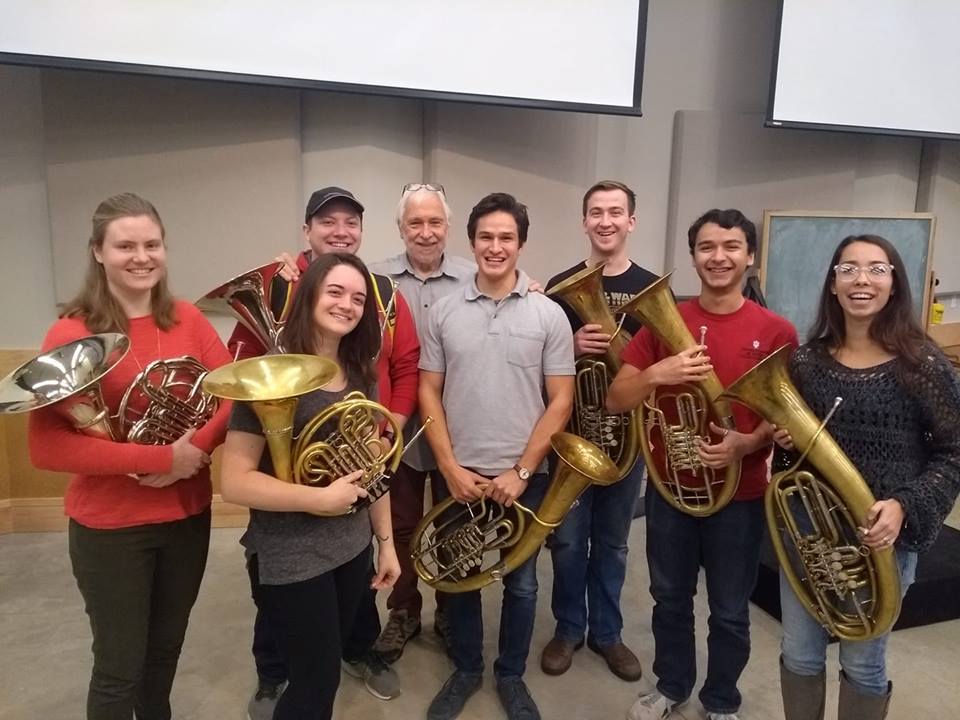 IU Horn students pose for a pictures after performing Anton Bruckner's 7th Symphony in Professor Clevenger's repertoire class!
Daniel Katzen Masterclass - October 25
Frank Lloyd Masterclass - October 23
Josh Phillips Masterclass - October 11
April 2018
Robert Danforth Masterclass - April 17
March 2018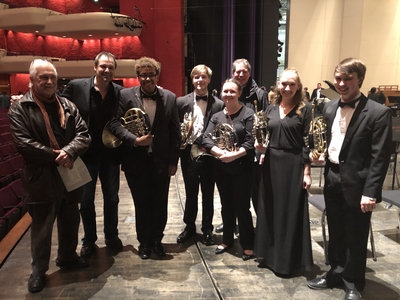 Members of the IU Wind Ensemble pose with Horn Faculty and Dean of the Jacobs School of Music after their fabulous concert!  From left to right: Professor Dale Clevenger, Professor Jeff Nelsen, Detrich Morrison-Jones, Jacob Kessler, Emma Lumsden, Dean Gwyn Richards, Lisa Cary, and Adam Ruble.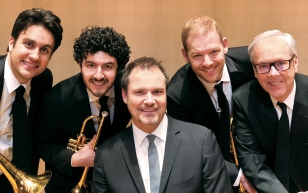 Professor Jeff Nelsen has rejoined the world-renouned Canadian Brass, while continuing his teaching at the Jacobs School!  Check out the full press release here: Canadian Brass Press Release.
February 2018
A quartet of Natural Horns perform for prospective students and their parents during the IU Horn Meet and Greet!  Barbara Bright-Read, Annie Chapman, Sarah Krueger, and Olivia Martinez are performing!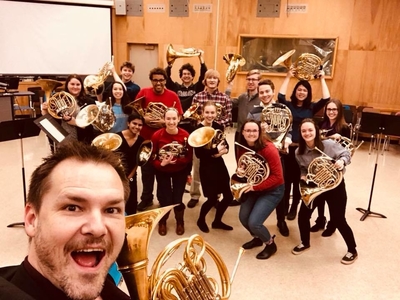 Professor Jeff Nelsen leads a mourning routine with prospective and current students!  The picture was taken between the mourning routine and a horn choir reading session!
January 2018
Minnesota Orchestra Horn Section Masterclass - January 22
November 2017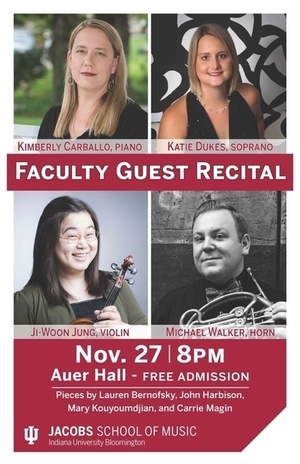 IU Alum Dr. Michael Walker and his wife, Katie Dukes, soprano, performed alongside IU faculty in a Faculty/Guest Chamber Recital.
October 2017
Daniel Grabois Masterclass - October 23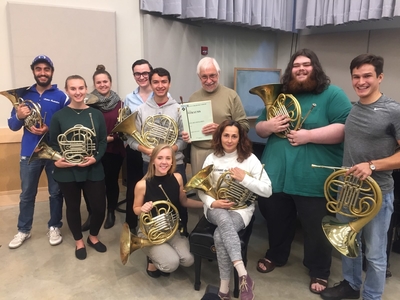 IU horn students participate in Professor Clevenger's Repertoire class.  The picture was taken after the class rehearsing Richard Strauss' Ein Heldenleben.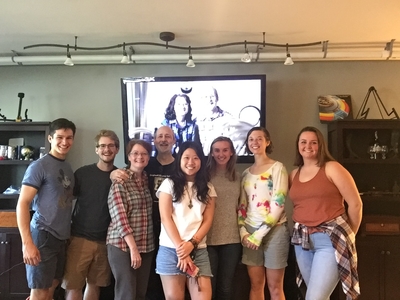 Professor Seraphinoff and his wife, Celeste, were intervewed for the PBS series "A Craftsman's Legacy."  A few of the horns students participated in a watch party together!
September 2017
Joshua Phillips Masterclass - September 28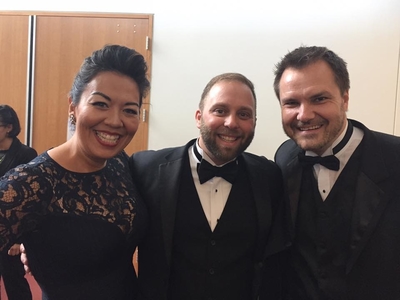 Jeff and Nina Nelsen performed two concerts with IU Alum Charles Latshaw.  The first performance was with the Grand Junction Symphony.  The program was titled "Mozart and Mahler" with Jeff featured on Mozart 4 and more music together with his mezzo soprano wife.  The second concert was with Maestro Latshaw and the Flagstaff Symphony.
Eric Terwilliger Masterclass - September 13
February 2016
Faculty Brass Recital - February 27
Randy Gardner Masterclass - February 8
Elizabeth Freimuth Masterclass - February 1
January 2016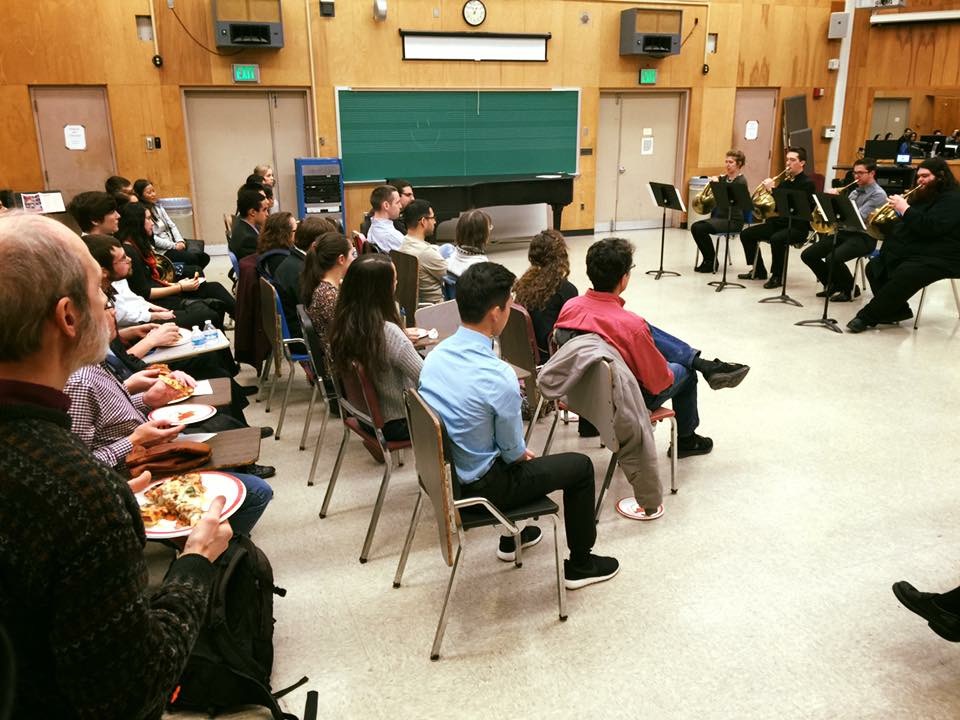 Prospective students and parents listen to a performance of the first movement of the Gallay Quartet on Natural Horns made by Prof. Richard Seraphinoff at the World-Famous IU Horn Meet and Greet, hosted every audition weekend. Cameron Wray, Michael Harris, Anson Carroll, and Lauren Patin were performing.
November 2015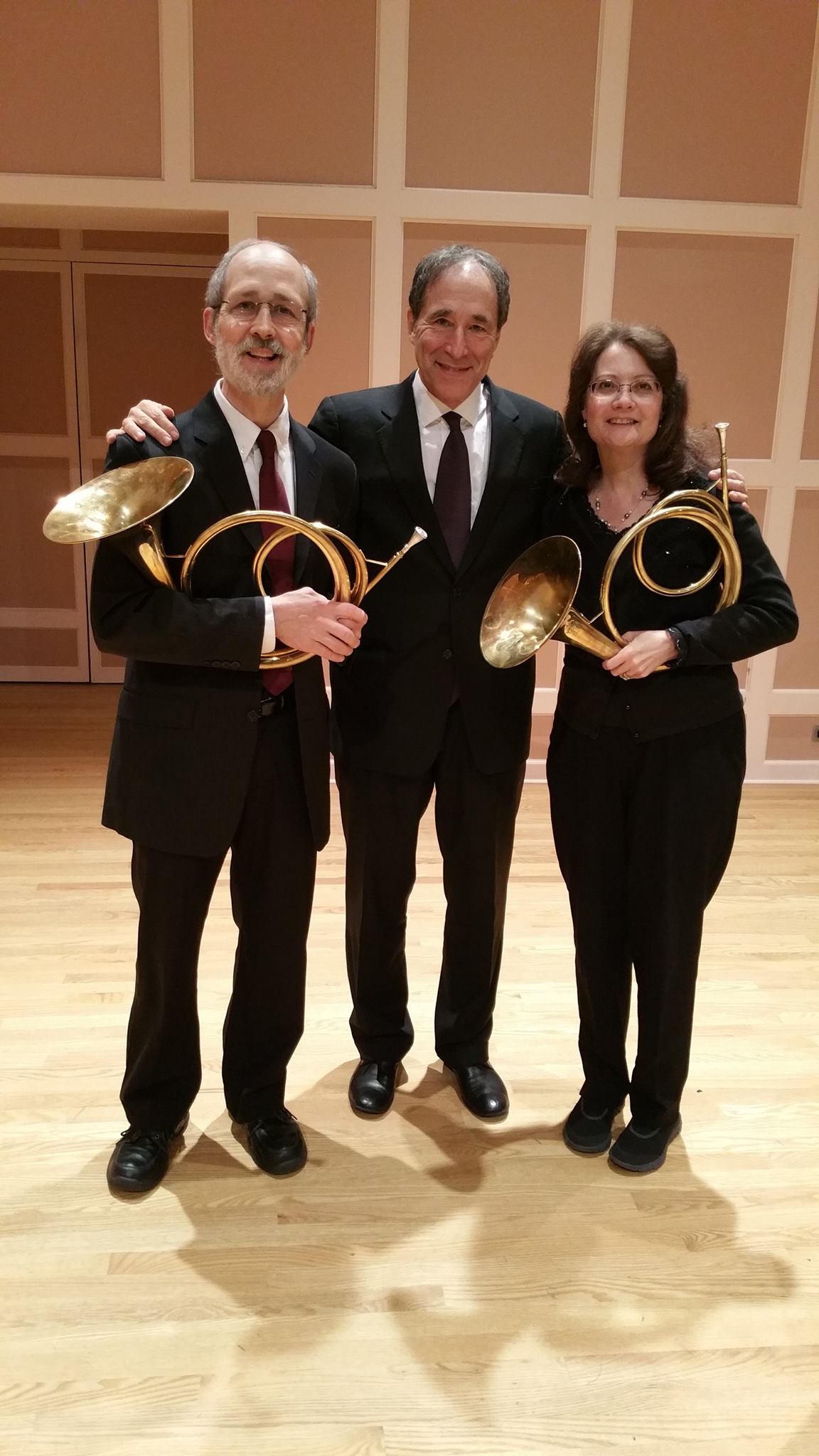 Professor Seraphinoff and his wife, Celseste Holler, performed with the Lyra Baroque Orchestra in St. Paul, Minnesota. Marc Destrubé was violin soloist and leader. They performed Haydn symphonies 6, 7, 8, titled, Morning, Noon, and Night. They have been members of the group for 10 years.
http://lyrabaroque.org/
October 3 - October 11 2015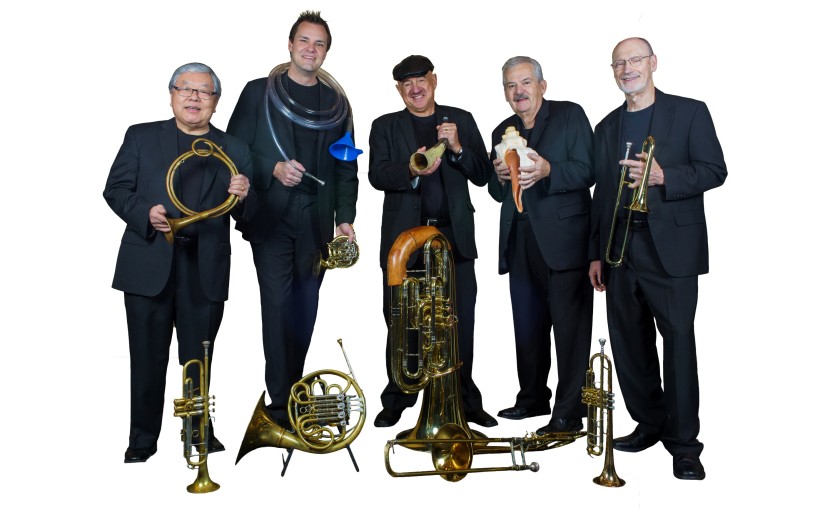 Jeff Nelsen became a full-time member of the St. Louis Brass Quintet earlier this year. He and IU JSoM Tuba professor Dan Perantoni went on tour October 3-11.  You can see more details on their website.
http://saintlouisbrass.com/home/?page_id=18
Monday, August 24, 2015
IU Horn Large Ensemble Placement Auditions: Recital Hall, 9am-5:30pm
April 2015
The students of Prof. Seraphinoff performed and recorded pieces from Gliere's Eleven Pieces, Op. 35. Two of the pieces performed were originally for horn, two were transcribed previously from clarinet pieces, and four were new transcriptions done by Prof. Seraphinoff from pieces for oboe and bassoon. 
Click here to listen to the recordings and learn more about the project!
April 15, 2015
Seraphinoff Natural Horn Class Recital: 3:45pm in MAC Green Room
April 7, 2015
IU Wind Ensemble Concert, Jeff Nelsen performs The Glass Bead Game
April 3, 2015
April 2, 2015
April 1, 2015
Recital/Chat with Jeff Nelsen and tubist Sergio Carolino
March 30, 2015
Kristy Morrell Masterclass - 7:00pm in MA006
March 26-27, 2015
IU Wind Ensemble in Nashville, TN, Jeff Nelsen performs The Glass Bead Game
February 22, 2015
Jeff Nelsen performs the Beethoven Sonata for Horn and Piano and the Dohnányi Sextet, Op. 37!
February 3-8, 2015
Mr. VerMeulen with the IU Horn Department!
January 20-22, 2015
Cleveland Orchestra Residency
Please click here to view the full Residency schedule
November 5-6, 2014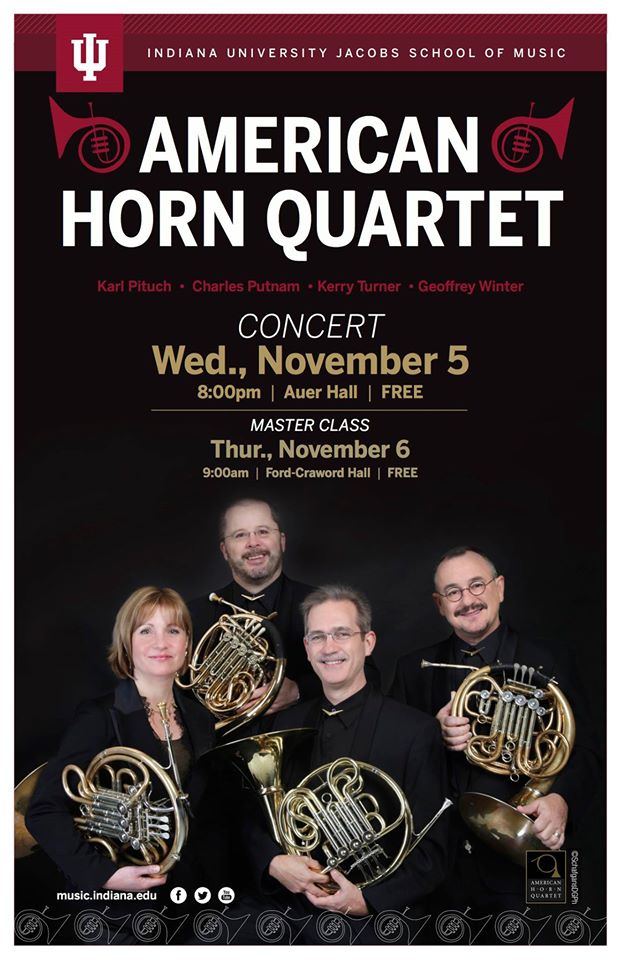 November 4, 2014
Professor Seraphinoff was interviewed by WFIU about his career recently. Click the link below to see the story!
http://indianapublicmedia.org/arts/injury-horn-richard-seraphinoff/
October 29, 2014 
Patrick Smith Masterclass at IU
August 27, 2014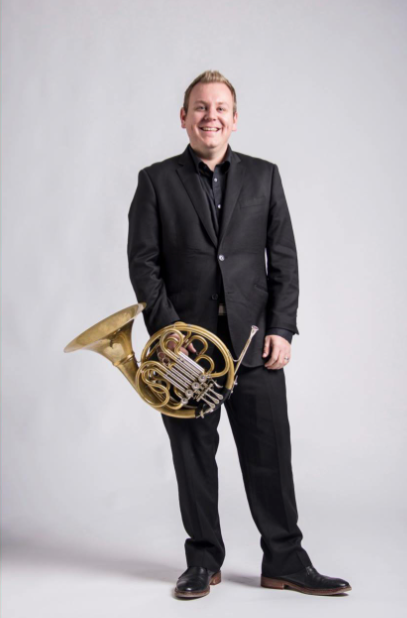 The Hoosier Horn Department is excited to announce that Mike Walker was just appointed to a Visiting Lecturer II at the University of New Mexico. Mr. Walker will be teaching the horn Studio, brass pedagogy and performing with the faculty woodwind and brass quintets. Mr. Walker studied with under Jeff Nelsen while pursing his DM degree in horn. Mr. Walker commented that, " I feel extremely well prepared to step into this environment with amazing new colleagues and students. Indiana University was a great training ground for my new position and I cannot wait to share some Hoosier traditions among my Lobos students."