Trombone Area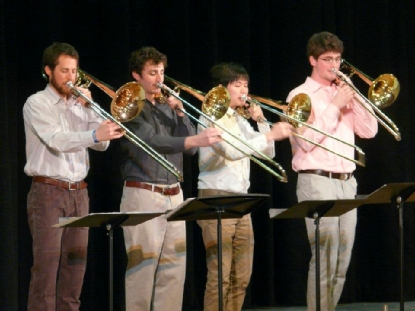 Welcome!
 This site is your resource for information on      trombone   events, faculty, admissions, and more at the Jacobs School of Music.
It is intended for use by our current and prospective students as well as trombone aficionados and others interested in our program.
The Indiana University Jacobs School of Music Trombone Area is built upon a long-standing tradition of excellence in trombone performance and is dedicated to preparing trombonists for the music world and business of the future. The Jacobs School heritage includes the legacies of Newell Long, Thomas Beversdorf, Lewis Van Haney, Keith Brown, M. Dee Stewart, and Edwin Anderson, all of whose students can be found in key positions in the trombone and music world around the globe.
Professors Carl Lenthe, Denson Paul Pollard, and Peter Ellefson are dedicated to upholding and furthering the same tradition of excellence in trombone performance and pedagogy as they work together in sculpting the department's goals to match the ever-evolving needs and demands on the future generation of musicians currently in their studios, all the while cultivating an artistic integrity in accordance with the department's history.
Through the faculty's studio teaching and master classes as well as regular presentations by well known guest artists, the students are exposed to highest-profile performance standards. Recent examples of this include the Artists-in-Residence program with trombonists of the Chicago Symphony Orchestra, Visiting Professor Jiggs Whigham, and Visiting Professor Albert Zuijderduin, along with guest artist appearances by Edward Kleinhammer, R. Douglas Wright, Sam Burtis, Joe Alessi, Blair Bollinger, Alex Iles, and others.
The number of trombonists, currently about 45 undergraduate and graduate students from different continents, provides a stimulating environment where the individual can regularly measure development against his or her peers, who are among the top trombone students in the country. Regular, impartial auditions for orchestra and Wind Ensemble placement afford the students valuable audition experience. Four symphony orchestras, four concert bands, and four jazz bands offer performance experience in major ensembles. Chamber music is performed in the brass choir and trombone choir, the New Music Ensemble, and the Early Music Institute as well as in many smaller groups.
Over a thousand music performances take place here each year! These include anything from a single instrument recital, through chamber music concerts and performances of the major orchestras and bands, all the way to the opera productions, which regularly attract national attention. Listening to these performances, generally free to the public, is a major part of the education here.
The Indiana University Jacobs School of Music is a large music conservatory embedded in a major research university. Many students opt for outside studies in conjunction with their musical pursuits. These can include business, physics, computer science, telecommunications, audio technology, and almost countless other disciplines.