FURIOSO: An Evening of Handel Opera at the John Waldron Arts Center, July 18
Gamma Ut, the early music student organization at the Jacobs School of Music team up with New York-based opera company operamission in an evening of opera arias by George Frideric Handel.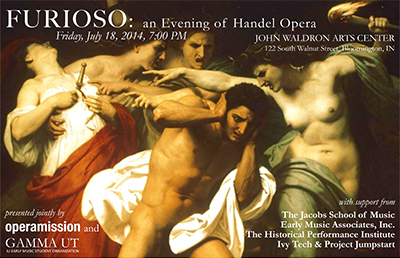 WHERE: John Whikehart Auditorium, John Waldron Arts Center, 122 South Walnut Street, Bloomington, IN
WHEN: Friday, July 18 at 7:00 p.m.
TICKETS: A FREE offering to the Bloomington Community
A project supported by Early Music Associates, Inc., Ivy Tech Community College, The IU Jacobs School of Music Historical Performance Institute and Project Jumpstart.
--------------------------------------------------------------------------------------------------------
18th century composer George Frideric Handel, perhaps known best by modern day audiences for his famed oratorio Messiah, was also one of the most prolific and significant composers of Italian opera. Many of Handel's operas, a total of 42 and almost all of which survive to this day, have recently enjoyed an increased interest from several mainstream opera companies and audiences nationwide. 
On July 18, Bloomington audiences will have the opportunity to enjoy selections from several of Handel's operas in a concert titled Furioso: An Evening of Handel Opera. Indiana University early music student organization Gamma Ut, and operamission, a New York City based opera organization founded by harpsichordist, conductor, and Jacobs School alumna Jennifer Peterson, will join forces to present this 'medley' of Handel operatic arias and ensembles.
Backed by an orchestra performing on historical instruments, Peterson will lead a cast of seven talented singers. Hailed by the New York Times as performing with "spirit and polish", Peterson is quickly establishing herself as a specialist in baroque opera.
This unique performance will be free and open to the public and is supported by Ivy Tech Community College and the Bloomington early music service organization Early Music Associates, as well as the IU Jacobs School of Music Historical Performance Institute and Project Jumpstart.
The performance will be presented on July, 18th at 7pm at the Ivy Tech John Waldron Arts Center.