This page lists conference activity, publications, and other accomplishments of students and faculty in the music theory department from fall 2018 through spring 2019. See this page for more recent accomplishments.
Spring 2019
Music Theory Midwest
May 10–11, 2019

Faculty and students with active roles in the MTMW conference...
Jacobs School hosts first Hip-Hop Conference
February 16-17, 2019
In honor of black history month and in celebration of the 30th anniversary of De La Soul's groundbreaking album 3 Feet High and Rising, the Indiana University Jacobs School of Music and the Department of African American and African Diaspora Studies presented an interdisciplinary conference, entitled Hip-Hop in the Golden Age. In his keynote speech, record producer and recording artist Prince Paul (Paul Huston) shared how he discovered his love for producing in a time when rap was largely unknown, and how his passion for music helped guide him through adversity and hardship to success.
GTA presents annual symposium
February 8-9, 2019
The Graduate Theory Association presented its 25th Annual Symposium of Research in Music Theory on February 8-9. GTA president John Heilig and a team of about 20 graduate students were involved in planning, chairing sessions, hospitality, technology assistance, and publicity for the symposium.
Gwyn Richards, dean of the Jacobs School of Music, delivered the opening remarks. Keynote speaker Nicole Biamonte (McGill University) led a pre-conference workshop on "Rhythm and Meter in Pop-Rock Music" and delivered the keynote address, titled "Unpacking Formal Functions in Pop-Rock Music." The symposium also featured lectures by IU faculty members Roman Ivanovitch and Caleb Mutch.
Fall 2018
Horlacher wins Ruth A. Solie Award at AMS
November 3, 2018
Gretchen Horlacher, along with co-editors Severine Neff and Maureen Carr, won the Ruth A. Solie Award from the American Musicological Society on Nov. 3, 2018, for their book The Rite of Spring at 100, published by Indiana University Press. The award recognizes a collection of musicological essays of exceptional merit.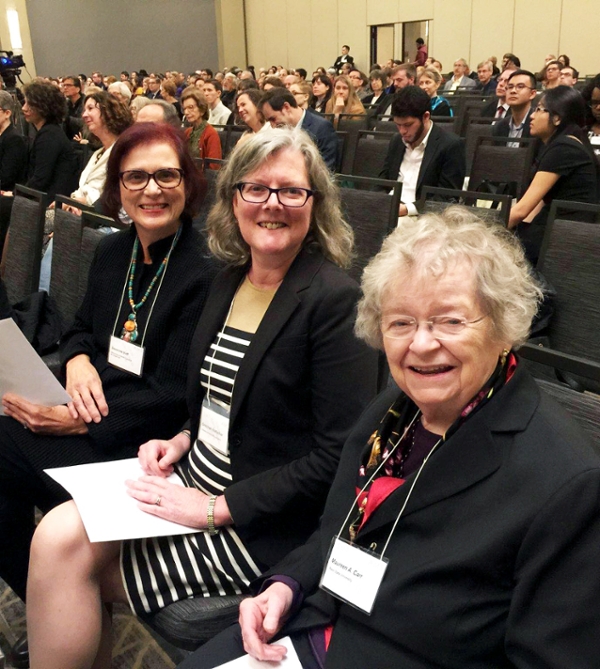 The essays (one of which is by Marianne Kielian-Gilbert) explore four key facets of the ballet: its choreography and movement; the cultural and historical contexts of its performance and reception in France; its structure and use of innovative rhythmic and tonal features; and the reception of the work in Russian music history and theory. The volume also contains audio and visual clips of the ballet.
Sommer defends dissertation
November 15, 2018
Congratulations to Dr. Jessica Sommer who successfully defended her dissertation, "Embodiment, Enaction, and Signification in Analyzing Opera."
Jedlicka defends dissertation
November 29, 2018
Jason Jedlicka successfully defended his dissertation, entitled Interpreting Steve Reich's Later Music (2007-2012)." Congratulations Dr. Jedlicka!
Keele defends dissertation
December 4, 2018
Congratulations to Dr. Christy Keele who successfully defended her dissertation, "Reconceptualizing Climax in the Scherzos of Frédéric​ Chopin."
IU theorists active at SMT conference (NEEDS UPDATE)
November 2-5, 2018
The IU music theory department was remarkably well represented at the fortieth annual meeting of the Society for Music Theory in Arlington, Virginia on November 2–5. The entire department faculty attended the conference along with at least 35 current graduate students and numerous alumni.
Faculty and students with active roles in the conference included the following:
Professor Kyle Adams chaired a session titled "Rhythm and Meter in Popular Genres."
PhD candidate Matthew Boyle presented "Harmonic Materialities: Syntactic and Statistical."
PhD student Leah Frederick presented "Generic (Mod-7) Voice-Leading Spaces."
Professor Julian Hook presented "Generalized Normal Forms." Professor Hook was also elected this year to a three-year term on the Society's Executive Board.
Professor Gretchen Horlacher presented one of three featured talks at the conference's plenary session, "Stepping Out: Hearing Balanchine."
Professor Blair Johnston presented "Sound-Quality Modulation in Sibelius's Orchestral Works."
Professor Marianne Kielian-Gilbert had a particularly active weekend, presenting "Experiencing Chen Yi's Music: Alternate Lines of Connection, Aesthetic Practice, and Sexual Difference" and chairing a session titled "Music and Body." Professor Kielian-Gilbert also presented a brief reminiscence at a session celebrating the SMT's fortieth anniversary, and presented an honorary lifetime membership in the Society to Benjamin Boretz.
PhD student Robert Komaniecki presented "Analyzing Collaborative Flow in Rap Music."
PhD candidate Nathan Lam presented "Modal Spelled Pitch Classes."
Professor Andrew Mead presented an honorary lifetime membership in the Society to Robert Morris.
Professor Caleb Mutch presented "The Triad in Dispute: Genre and Audience in the Writings of Johannes Lippius."
Professor Frank Samarotto led a graduate student workshop titled "The Craft of Musical Analysis"; he also chaired a session titled "Harmony and Voice Leading in Nineteenth-Century Music."
Many alumni of the department also presented at the conference, including Stanley Kleppinger (PhD 2006), Justin Lavacek (PhD 2011), Nathaniel Mitchell (MM 2015), and Paul Sherrill (PhD 2016).
GTA presents fall recital (NEEDS UPDATE)
October 20, 2018
On October 20, the Graduate Theory Association presented its annual fall recital in Auer Hall. The long and varied program featured graduate students Chelsea Brinda (voice), Peter Cho (viola), Christa Cole (voice and violin), Nicole DiPaolo (piano), Leah Frederick (viola), David Geary (voice), John Heilig (baritone saxophone), Jason Jedlicka (piano), Robert Komaniecki (voice), Stephen Komer (piano), Nathan Lam(clarinet), Emily Lamb (Baroque viola), John Mattessich (piano), Michele Newman (flute), Jessica Sommer (oboe), and Abigail York (voice), as well as Professors Kyle Adams (piano), Julian Hook (piano), and Andrew Mead (composer).
New students welcomed
August 2018
The music theory department welcomed new students into our MM and PhD programs.
New MM students:
Jack Bussert (Bixby, OK) earned his BM/BME from the University of Tulsa. His areas of interest are: acoustic resonance, instrumentation, monody, pedagogy, composition, performance and analysis.
Haley Heinricks (Vancouver, British Columbia) completed a bachelor's degree in music education at the University of British Columbia. Her current musical interests include works for large instrumental ensembles (specifically orchestra and wind ensemble), formal analysis of nineteenth-century music, and solo and chamber music for saxophones. Her hobbies include reading, drinking tea, and playing chamber music with her saxophone quartet.
Nathan Smith (Rensselaer, IN) holds a Bachelor of Arts degree from Butler University and a Master of Arts degree from the University of Chicago, both focusing on music theory and history. His interests lie at various intersections of mathematics, rhythm and meter, progressive metal, jazz, New Music, and sound studies. Outside of class, Nathan enjoys performing on the guitar, painting, and playing with his dog, Dowland.
New PhD students:
Tyler Erickson (Commack, NY). Tyler completed a Bachelor of Music degree in double bass performance at New York University. His interests include musical meter (particularly in Brahms) and post-tonal theory. He enjoys watching movies and dabbling in Korean traditional drumming.
Madeleine Howey (Watertown, SD). A percussionist, Madeleine graduated from Concordia College (Moorhead, MN) with a Bachelor of Arts in music and mathematics. Besides percussion, her musical interests include post-tonal theory, performance and analysis, and text setting.
Stephen McFall (Aiken, SC). Stephen holds a bachelor's degree in oboe performance with a minor in mathematics from Winthrop University (Rock Hill, SC). His interests include music perception and cognition, 20th- and 21st-century music, minimalism, and Nordic music. He also enjoys baking bread, keeping track of the news from Iceland, cheering for Swansea City football club, and spending time with his wife, Angelica, and their one-year-old son, Soren. 
Emily Truell (Elizabethton, TN). Emily holds degrees in both viola performance and music theory from Furman University. Among her musical interests are string quartets, musical borrowing and quotation, and theory pedagogy. She also enjoys watching cooking shows, practicing yoga, and playing chamber music.
---
Previous years
Activities and Accomplishments 2017–18
Activities and Accomplishments 2016–17
Activities and Accomplishments 2015–16
Activities and Accomplishments 2014–15