December 2014
A Message from Dana Marsh – Coordinator, Historical Performance Institute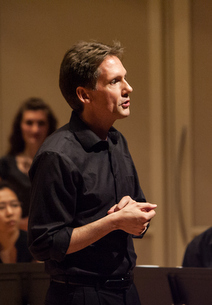 In Gratitude
Since emerging in Bloomington as a new, "green", full-time faculty member some 12 weeks ago, I am grateful for the warm welcome offered by so many colleagues, staff, and students at the Jacobs School of Music (JSoM). It's abundantly clear that the Historical Performance Institute (HPI) is an exceptional community of people – an admirable result of a long-time commitment and investment on the part of a caring faculty. HPI fosters a friendly, family atmosphere, and it is a privilege to work with such a special and supremely talented group of people. It's no less inspiring to be party to the many currents of change and renewal taking place this year as we together implement new goals that point us towards an exciting future.
Fall 2014
New Faculty
We offer a very warm welcome to two new adjunct faculty this year: Keith Collins (bassoon, recorder), and Steven Rickards (voice). Special thanks also to EMI/HPI alum, Joanna Blendulf, who taught the students of Wendy Gillespie during her sabbatical leave this semester.
Special Guests
HPI has been a dynamo of activity this semester. We began with an extended visit from Professor Angela Mariani (D.M. alumna) from Texas Tech University, who led us on an insightful journey into the practices of "Improvisation and Invention in Medieval Music." This series of symposia drew participation from the entire institute, as well as an extended family of local alums, associated faculty and students from neighboring departments. Through the congenial graces of the Medieval Studies Institute, we also welcomed Mary Carruthers for her presentation, "Stylistic Effects and Bodily Health in Medieval Aesthetics." While that title may seem a bit far removed from the study of Medieval music, Professor Carruthers has written extensively on the Middle Ages from a variety of perspectives – many of which have proven highly germane to the work of Historical Performance. Her visit provided an intellectual breath of fresh air for all who attended. 
The dynamic Dutch soprano, Josefien Stoppelenburg, presented two spirited Five Friends Master Class sessions in honor of Georgina Joshi. Josefien's visit also opened the Bloomington Bach Cantata Project (BBCP) series – now at 27 cantatas and counting – and the sixth year is well under way. Stanley Ritchie directed the centrepiece BWV 17, "Wer dank opfert, der preiset mich" before a capacity crowd at St Thomas Lutheran Church in Bloomington. Fortuitously, the Jacobs School of Music has henceforward incorporated the BBCP into its official array of concerts. Indiana University, then, is now the only institution in higher education with a series devised to perform the entire cantata repertory of J.S. Bach (with a lecture at every performance), thanks to the redoubtable efforts of Professors Wendy Gillespie and Daniel Melamed.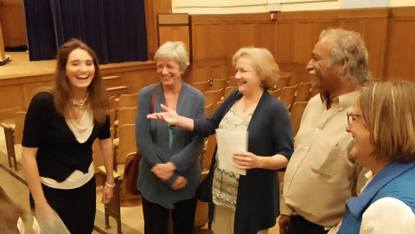 (Pictured above: Josefien Stoppelenburg, Professors Wendy Gillespie and Elisabeth Wright with Yatish Joshi)
As I write this, we are looking forward to hosting a master class by the renowned soprano, Christine Brandes. Christine is an exceptional singer with substantial credits not only in the field of Historical Performance, but also within mainstream Opera and the expanding arena of New Music. Christine will also appear in a JSoM Project Jumpstart session entitled, "Navigating a Vocal Career that is Right for You", in collaboration with IU voice faculty Mary Ann Hart (Chair), and Marietta Simpson.
Baroque Orchestra Recording Sessions in December
As ever, under the fearless leadership of Professor Stanley Ritchie, the IU Baroque Orchestra has been on especially good form this year – so much so, that the group is scheduled to record concerti of Handel, Telemann, and Marcello before the Christmas break. Two IUBO concerts were presented this semester, the first featuring music by Venetians, the second offering works by German and Bohemian composers. In addition to an excellent complement of string, wind, and continuo forces, we've also benefitted from a sturdy contingent of natural trumpet and horn players, whose talents were duly represented in Professor Ritchie's programming.
Concentus NPR Broadcast and a New Recording from Nigel North
The HPI ensemble, Concentus, produced two exciting projects this semester, beginning with a program centered on Baroque music of Latin America. The menu included four modern premier performances of works by Manuel de Sumaya (1678-1755), including a four-movement solo cantata, beautifully sung by HPI doctoral student, Kathryn Summersett. There was a significant academic focus to the project as well: first, a JSoM Lecture Series presentation by Craig H. Russell, Distinguished Professor at Cal Poly and leading expert on Baroque music of Latin America, followed by a panel presentation consisting of three papers, co-sponsored by the Latin American Music Center. After a rousing concert in Auer Hall, students and faculty spent three days further refining their performances in recording sessions. The results of that venture are forthcoming this Christmas on 200 NPR stations nationwide via the syndicated radio program, Harmonia Early Music (WFIU-FM Bloomington), with added distribution coming from Public Radio International (PRI). Check your local NPR listings in December for the PRI program entitled, A Baroque Christmas in the New World. Read more and listen to excerpts here.
A second Concentus project brought listeners through a splendid selection of sixteenth-century arrangements of popular chansons, all masterfully programed and woven together by Professor Nigel North. Nigel also spent two weeks in Europe during October performing and teaching at the Aarhus International Guitar Festival (Denmark), the Northeast Guitar Festival (London), and the London Guitar Festival. He additionally completed a second volume disc recording of music by Francesco de Milano, the first of which was released in October of this year on the BGS label.
Historical Keyboard Fest
Three historical keyboard studio recitals in as many days showcased HPI's harpsichordists and fortepianists in mid-November. Professor Elisabeth Wright, Dawn Kalis, and Hsuan Chang presided over these occasions, which offered a wonderfully varied selection of repertory. The harpsichordists were excellent, as one would come to expect in this department; but equally impressive was the superb coterie of fortepianists that have through solo and chamber music performances become among the chief adornments of HPI. Bravi tutti!
Update - Elisabeth Wright has released an exquisite new CD recording featuring keyboard works by J.S. Bach. It's now available online!
Gamma-Ut
Gamma-Ut, HPI's student-led organization, has fresh wind in its sails this year. Reorganized and reconfigured, the group has set new goals with exciting implications, not only for current students, but for ensuing generations of Gamma-Ut folk. New work has begun on our alumni pages, and there will be a series of blogs in 2015 chronicling the work of HPI alumni. Watch the Gamma-Ut page in the coming months for more information!
Spring 2015
Projects
What impresses me most about HPI is the sheer stylistic range of performance projects possible under one roof. For example, a grad-student led production will offer Hildegard's Ordo Virtutum (c.1151) on April 18th; within weeks of that performance on March 6th, two of our department ensembles will have joined forces in Joseph Haydn's final major work, Harmoniemesse (1802). As the name suggests, the latter work includes a full band of classical winds: flute, clarinets, oboes, bassoons; plus horns and trumpets. At similarly close range will be two performances of Bach's Trauerode (BWV 198 – 1727). The first outing in Auer Hall will also feature Bach's Missa in A (BWV 234 – c.1739), with another reading of Trauerode the next day at St Thomas Lutheran Church in Bloomington. The Auer Hall performance will offer a larger complement of performing forces than has been customary for the BBCP; the St Thomas Lutheran concert will involve our normal deployment, chiefly one-per-part (except for doubled first and second violins), which is thought to be truer to Bach's own performance expectations. Musicology Chair and Bach specialist, Daniel Melamed, will present an insightful pre-concert lecture.
Wendy Gillespie will lead the Viol Consort in a rich program of music by Christopher Simpson (c.1605-1669). Performed at the Lilly Museum, and drawing from the rare book collection at the IU Lilly Library, this will be a program not to be missed, March 8th.
It's truly remarkable that the fruition of the aforementioned projects will take place over a six week period, from March 6 to April 18. We shall update these pages regularly during that period with accounts of each project.
Five Friends Master Class – Robert Smith, Viola da Gamba
International Viola da Gamba sensation, Robert Smith, will lead a series of Five Friends Master Class sessions and a solo recital January 20-22. Watch this space for a special blog covering his visit in the New Year.
Ingrid Matthews Olson and Byron Schenkman return!
We are especially pleased also to welcome two of EMI/HPI's most illustrious alumni – Ingrid Matthews Olson and Byron Schenkman – for a concert January 17th in Ford Hall. Gamma-Ut will run a special story on the work of these two graduates, early in 2015.
Stanley Ritchie on Sabbatical, Spring 2015
Professor Stanley Ritchie will be on sabbatical next semester undertaking a book project focusing on the interpretation of unaccompanied works by J.S. Bach. As his 2012 publication from IU Press (Before the Chinrest...) has been received with high acclaim, we know that his wisdom gathered from many years experience teaching unaccompanied Bach will yield a resource of considerable utility for string players and interested scholars alike.
During Professor Ritchie's absence, there will be four teachers resident at different periods: Ingrid Matthews Olson, Myron Lutzke, Cynthia Roberts, and Julie Andrijeski.