This page lists some practice resources for the more common piano proficiency exam items for non-piano majors at Jacobs. To suggest a resource for this page, email secpiano@indiana.edu. 
Quick Links: 
---
Transposing an Accompaniment
This is item B for undergrads; item 3 for graduate students.
Many of the songs in 24 Italian Songs and Arias are good candidates for practicing this skill. 
---
Hymn Reading
This is item D for undergrads: Sight read hymns and anthems in a four part texture. 
Many hymns for practicing may be found at the Open Hymnal Project (http://openhymnal.org)
---
Four-part Open Score Reading
This is item F for undergrads; item 6a/6b for graduate students. 
Keyboard Skills for Music Educators: Score Reading, Shellie Gregorich, Benjamin Moritz, Routledge, 
ISBN 978-0-415-88898-1
Many open choral scores for practice can also be found here: http://www.cantatedomino.org/cd/choral-index.html (however, not all of them are SATB, and be careful not to rely on the reduction at the bottom of most pages) 
(only if you need to read open score with alto clef for your exam): Preparatory Exercises in Score Reading, R.O. Morris & Howard Ferguson, Oxford University Press, ISBN 978-0193214750 
---
Sightreading
This is item G for undergrads; item 4 for graduate students. 
You can expect the proficiency exam sight-reading to be a short excerpt (approximately 12-16 measures), in a more contrapuntal/imitative texture that requires independence in both hands. (An example of something that would be too simple, and NOT up to proficiency exam standards, would be an excerpt that has a melody in the right hand with a simple blocked-chord accompaniment in the left hand.) 
Exercises of a comparable difficulty may be found in the harder exercises of Right@Sight Grade Three, composed by Thomas Johnson, rev. Caroline Evans, Edition Peters, EP 7541,
ISMN M-57708-362-9
---
Improvising Accompaniment
This is item J for undergrads: Improvise at sight an accompaniment to a melody (melody must also be performed), with or without chord symbols. Blocked chords are not an acceptable accompaniment, and melodies may require secondary chords or secondary dominants.
To practice, see http://www.free-notes.net, which has many freely-transposable folk tunes with chord symbols
---
Chord Progressions
This is item M for undergrads: I-IV-I-V7-I in all major/minor keys, after the relevant scale, three voices in each hand. 
See the image below for an example of an acceptable I-IV-I-V7-I chord progression in C major: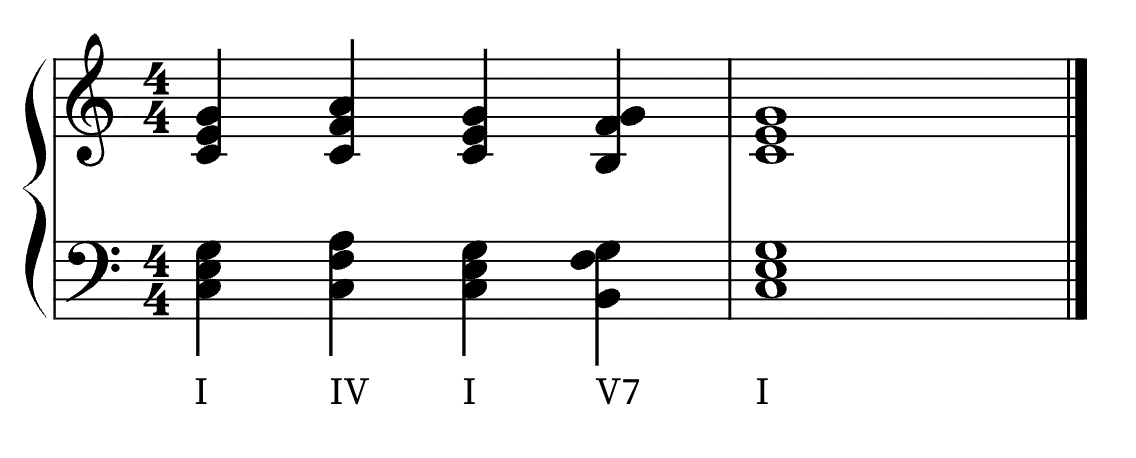 ---
Prepared Piece
This is item N1/N2 for undergrads; item 8 for graduate students. 
View a list of approved repertoire here. 
All can be found in Music for Millions, Vol 17: Easy Classics to Moderns, ed. Denes Agay, Music Sales America, ISBN 978-0825640179
---
Patriotic Songs
This is item O for undergrads.
Where can I get a copy of America? (links to PDF)
Where can I get a copy of The Star-Spangled Banner? (links to PDF)
---
Scales/Arpeggios/Etc.
This is item R for undergrads; item 11 for graduate students. 
The Brown Scale Book, Frederick Harris Music, ISBN 0-88797-018-4

How should broken chords be played? (links to PDF)
How should blocked chords be played? (links to PDF)