Postcards from the Canyons (2009):
Nine Images from the Canyons of Utah Played Without Pause 

for chamber orchestra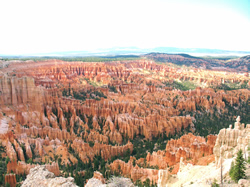 duration: 11 minutes
Utah Arts Festival Chamber Orchesta, Andrew Rindfleisch, conductor
Commissioned by the 2009 Utah Arts Festival
1. Overlook at Dawn
2. Canyon Birds
3. Angel Arch (Canyonlands)
4. Solitary Spires (hoodoos)
5. Lumbering Black Bear
6. Monument Trio
7. Ascent from the River
8. Return to Angel Arch
9. Canyon Shadows at Dusk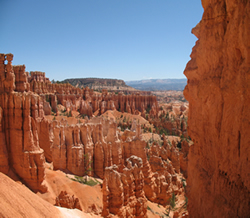 PROGRAM NOTES
I was thrilled to be recipient of the orchestral composition award of the 2009 Utah Arts Festival. For that reason, I wanted the piece to reflect something uniquely Utah and settled on images from the various canyons. My intent in writing a piece about the canyons was to travel out in advance of composing to 'research' the music by hiking around. Alas, a previous commission went down to the wire and I was not able to do that, but I drew inspiration from the Mussorgsky's evocation of "Pictures at an Exhibition" by finding some stunning images of Bryce, Canyonlands, Zion and Arches on the Internet. I arranged them in chronological order from sunrise to sunset, which worked well for the musical form, in itself an arch, very much like its subject matter. The piece begins with the first glimpse of Bryce Canyon at sunrise (from Sunrise Point) with unison pitches 'C' 'A' 'B' --not a coincidence, using various note-naming systems, that spells UT - A - H. Canyon Birds feature bird calls from the various woodwinds, including what must be a very large bird in the bassoon. Canyon swallows, swifts, jays, nutcrackers rise to an organized cacophony. One of the most stunning and majestic images I discovered was of Angel Arch in Canyonlands--this section features full orchestra and soaring brass.
The image I had from Bryce entitled 'hoodoos' depicted these weird solitary spires with boulders perched up top (see picture above). The music therefore becomes static, with odd sonorities hanging in the air atop military-style percussion. Trombone glisses depicts the dripping trails of colorful minerals from these hoodoos, some which look like melting ice cream. The Lumbering Black Bear section does just that--uneven rhythms of jazzy sonorities lumbering between the piano and basses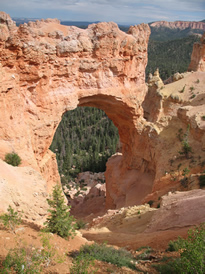 provide the background for some equally unbalanced solos in the winds and brass. This leads into the Monument Trio, which was inspired by the photo I had of flat rocks arranged in rows and sections much like a 50's big band...a fast plucked 'walking bass' and syncopated rhythms are pure jazz.
Ascent from the River is evoked by continually rising figures which accelerate into a Return to Angel Arch where we get a longer statement from the first Angel Arch and climax of the piece. The piece ends very quietly at sunset at Bryce's Sunset Point with just strings, chimes and crotales--punctuated by UTAH!
I did travel to the Utah canyons after the premiere to experience them for myself; they were more beautiful and awe-inspiring than I imagined they could be.
[photos by the composer]
Return to The Music of Jeffrey Hass