Sirucek and Sharrow Reed Room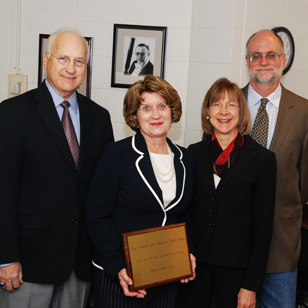 In the Fall of 2008 IU was proud to unveil its new reed room through the gracious help of donors John and Beth Drews.  It is one of the largest and most well equipped reed making facilities in the country.
It has been named to honor the legendary Jerry Sirucek, oboe, and Leonard Sharrow, bassoon, who were both professors at the IU School of Music.
The room itself consists of fifteen individual desks, including AI teaching spaces, gouging machine stations and a repair station. Each desk is complete with lamp, working mat, and state-of-the-art height adjustable chair.
IU owns a large amount of equipment, including six gouging machines and supportive equipment, numerous oboe and English horn shaper tips, repair supplies and various other reed making equipment.
More information on the room can be read in this article.