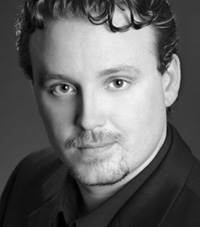 Click for larger image
Garth Eppley, tenor, was a native of Wabash, IN. He held a bachelor's degree in Voice Performance with Honors in Performance from Anderson University, where he studied with Fritz Robertson.
His IU Opera Theater roles included Lysander in A Midsummer Night's Dream, the Second Man in Armor in The Magic Flute, and the Lawyer in Peter Grimes. He was a frequent soloist with the Indiana University Contemporary Vocal Ensemble, with which he recently sang the role of Pilatus in Arvo Pärt's Passio.
Eppley was also a frequent soloist with the Lafayette Bach Chorale, where he had sung on such programs as Handel's Solomon, Rachmaninoff's Vespers, and the Festival of Sacred Choral Music under the baton of guest conductor Craig Jessup of the Mormon Tabernacle Choir.
Last the summer of 2005, Eppley was a participant, along with other singers from the United States and Canada, in the Charley Creek Vocal Workshop, an intense program of aria and song study. He was a master's student studying with Timothy Noble at the Indiana University Jacobs School of Music.
Garth was born on February 7, 1981.