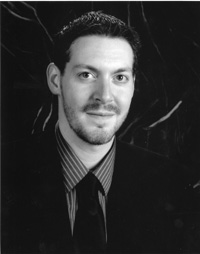 Bass-baritone and composer Robert Samels was born on June 2, 1981, and died in a plane crash on April 20, 2006.
He was a doctoral student in choral conducting at the Indiana University Jacobs School of Music and had studied voice with Giorgio Tozzi and Costanza Cuccaro. He began his vocal studies with Alfred Anderson at the University of Akron and Andreas Poulimenos at Bowling Green State University.
Samels had recently appeared as Mr. Gibbs in the world premiere of Our Town by Ned Rorem, as Marco in the collegiate premiere of William Bolcom's A View from the Bridge, and as Joseph and Herod in the collegiate premiere of El Nino by John Adams.
In September 2005, he conducted the premiere of his own opera, Pilatvs. As a member of the Wolf Trap Opera Company for 2006, he would have added three roles that summer, including Bartolo in Le Nozze di Figaro, Friar Laurence in Roméo et Juliette, and Pluto in Telemann's Orpheus. Other opera credits included the title roles of Don Pasquale and Il Turco in Italia, as well as Leporello in Don Giovanni, Falstaff in TheMerry Wives of Windsor, and Bottom in A Midsummer Night's Dream. In the summer of 2004, he performed Creon in the New York premiere of John Eaton's Antigone.
Samels also frequently performed in the oratorio repertoire. In the spring of 2005, he was selected as a semi-finalist in the annual competition of the Oratorio Society of New York.
He was an announcer with public radio station WFIU, as well as the host and producer of its Cantabile program. A soloist with Aguavá New Music Studio, he had recently performed a concert at the Library of Congress.
Samels was an assistant instructor in the Jacobs School's Music Theory Department, where was loved and admired by his students.
Link to Blog
Personal Web site: www.robertsamels.com
Link to Obituary