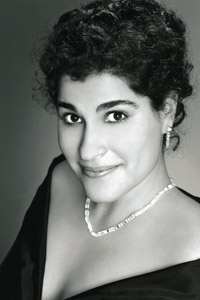 You now have sorrow, but I will see you again and your heart shall rejoice and no one shall take this joy from you.
(Brahms: German Requiem)
Georgina Joshi died just before midnight on Thursday April 20 th when the plane she was piloting crashed ¼ mile south of the Monroe County Airport, Bloomington, Indiana. The tragic accident also claimed the lives of four of Georgina's friends who were some of the most talented musicians from the IU Jacobs School of Music. It is a terrible loss for each family and for the world.
Georgina was a professional singer, an accomplished pilot and a loving daughter, sister and friend. She was born October 21, 1981, in Elkhart, Indiana and embarked on a life filled with beautiful music. Georgina started singing at a very early age and studied violin from the age of three. Georgina's first stage appearance was in Canton, Ohio, where she appeared with Players Guild of Canton in a production of the musical, Oliver. Her operatic debut was as Amahl in Indiana Opera North's production of Amahl and the Night Visitors. Georgina graduated from John Adams High School where she was a member of the 1999 State Champion Mock Trial Team. During high school she was a member of the IUSB Philharmonic and the South Bend Chamber Singers, concertmistress of South Bend Youth Symphony and participated in summer music programs at Interlochen, Tanglewood Music Center and Aspen Music School. She received numerous awards including the YWCA Young Woman of the Year.
Georgina attended the Royal College of Music, London, England, where she studied with Eiddwen Harrhy, receiving a BMusic(Hons) degree in 2001. Since that time she has been a student at the IU Jacobs School of Music where she studied with Alan Bennet. While at IU Georgina appeared as a soloist in various concert works including Haydn's Creation, Handel's Solomon, the B-Minor Mass of Bach, Britten's Hymn to St. Cecilia, Mendelssohn's Psalm 42, Schubert's Mass in A Flat Major, Mozart's Litenae Lauritenae K.195, the Mozart Requiem and the Brahms Deutsches Requiem. She also appeared with IU Opera Theatre as Clorinda in Cenerentola and Despina in Cosi fan Tutte. She collaborated with other musicians such as the Catacoustic Consort, The Bath Street Studio and was a member of the Carmel Bach Festival Chorale. Outside the USA she appeared as a soloist in England, Wales, Romania and Greece.
Georgina loved flying and was a skilled and experienced pilot. She received her private pilot license in 2000 and went on to earn her twin engine and IFR ratings. She enjoyed skiing and sailing, was an avid reader and loved being with her family.
On Georgina's behalf, the family wishes to thank the many people who were so important in her life, her friends and teachers and in particular Alan Bennet, John Poole, William Jon Gray and the faculty and musicians of the IU Jacobs School of Music, Eidwenn Harrhy and the faculty and fellow students of the Royal College of Music, Virginia Morrow, and flying instructor Ron Burns.
Georgina is survived by her parents, Louise Addicott and Yatish Joshi and brothers Tenzing and Avatar of South Bend, Indiana, her grandparents Ray and Marjorie Addicott of Canton, Ohio and Ramagauri Joshi of Mumbai, India, aunts and uncles Virginia and Bill Albanese, Akron, Ohio, Vivienne Moffat, Canton Ohio, and Simon Addicott, Columbus Ohio, Prakash and Anjali Joshi, Pragna Joshi and Harsha and Himanshu Bhatt, Mumbai India, cousins in the USA Peter and Alex Albanese and Sarah and Heydon Moffat and in India, Deepa, Jimish and Khushali Joshi and Meghana and Anish Bhatt. She was preceded in death by her grandfather, J. P. Joshi and uncle Dilip Joshi, both of Mumbai, India.
Contributions in her memory should be directed to either the, IU Foundation (Georgina Joshi Memorial Fund to benefit the IU Jacobs School of Music), PO Box 500, Bloomington, IN  47402 or to the Georgina Joshi Memorial Fund at the Royal College of Music, Prince Consort Road, London SW7, England. In lieu of a religious service, the family has asked friends to celebrate Georgina's life through concerts, one in Bloomington Indiana on April 30 th, 7p.m. Auer Hall, on the campus of Indiana University and another at a later date in South Bend, Indiana. The family will be at home on Saturday April 29 th from noon to 6 pm to receive visitors. Many thanks for all of the kindness and support we have received.
Georgina was kind and generous, talented yet humble, intelligent and beautiful – she was incredible. We will hold her in our hearts forever.